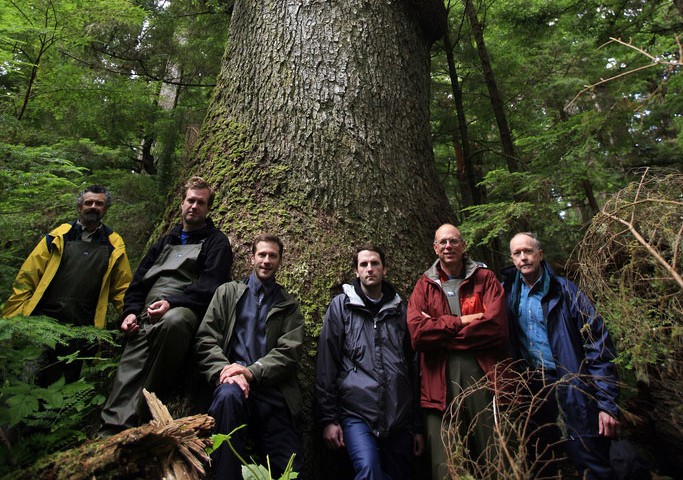 For hundreds of years guitars have been made the same way, but now this could all change. A new music documentary, "MUSICWOOD" follows the journey of a band of the most famous (acoustic) guitar-makers in the world as they attempt to save a primeval forest and the acoustic guitar.

Musicwood Documentary – 2 min trailer from Helpman Productions on Vimeo.
Of course, Paul Fischer already foresaw the problem of diminishing stocks of precious instrument hardwoods and in 1983 he was awarded a Winston Churchill Travelling Fellowship to extend his research into the forest of Brazil.
He produced many instruments with alternative, non-threatened hardwood species and did a memorable "blind test" with John Mills playing traditional Brazilian rosewood and mixed other species (e.g. Kingwood, Jaguar wood) behind a curtain, with the audience invited to judge whether or not they could tell the difference.
Nowadays, it is quite common to find instruments made of alternative hardwoods (the most common and long standing being the so-called "Indian" rosewood). but Paul was a pioneer who did research with the help of native Brazilians such as Sergio Abreu.
This is what Paul has to say about his trip:
"At the beginning of the 1980s I was awarded a Winston Churchill Research fellowship. This was mainly to do research in Brazil on the supply of Brazilian rosewood, its future availability, and alternatives to rosewood from that region. I was to spend time in Sao Paulo in research institutions forestry management and maintenance and study of different species — doing the groundwork for a trip into Bahia, Pará, EspIrito Santo, and Pernambuco. So I flew from the study in Sao Paulo to Belem where I attended an international conference on the sustainability of the rainforest and the best use and management of rainforest materials and species.

While I was in Belem, I went into the rainforest of that region to get a better understanding of how they were being managed and visited timber merchants and lumber mills to broaden the picture of the general state of the timber industry, conversion, and export. I then flew down to the state of Bahia to meet up with an Hungarian timber merchant who specialized in lumber for instrument making and I spent two weeks with him meeting and gathering information about the availability of Brazilian rosewood, what future supplies may or may not be, and gathering samples of alternative woods.

 

Things were bleak. Many of the timber mills had thousands of logs lying around but the mill was no longer working. They laughed when I asked about Brazilian Rosewood. They didn't understand I was doing research. They thought I was trying to buy it. From a timber merchant's point of view, it was uneconomic to try to gather a few logs of Brazilian rosewood. Commercially, it wasn't worth the merchant's looking for From Central Bahia, I travelled by bus down through Pernambuco, to São Paulo, stopping in various regions. The future supply appeared desperate.

I chose seven other woods that I made into experimental instruments identical in every respect to my normal work. Using one Brazilian rosewood guitar as the reference point, I held a presentation in London where these instruments were played and the audience was asked to judge the results in a blind test. No one could pick out the Brazilian instrument from the others. However, the general response of the audience was skepticism, partly because they assumed wrongly that I was trying to catch them out and expose their ignorance. That was not the purpose at all. It was a serious endeavor to deal with a looming problem, and at the same time gain valuable experience for myself as a guitar maker."