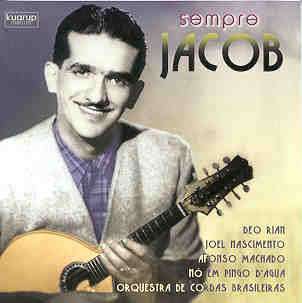 What do you get if you substitute an 'M' for a 'B' and an 'n' for an 'm'?
You get a virtuosic Brazilian mandolinist whose day job was a pharmacist (and also a public notary) and who was impeccably dressed for concerts. He also wrote many of the Brazilian hits of all time, aptly named Jacob Pick Bittencourt, whose stage name was Jacob do Bandolim, "Jacob Mandolin".
In addition to his virtuoso playing, he is famous for his many choro compositions, more than 103 tunes, which range from the lyrical melodies of "Noites Cariocas" ("Carioca Nights"), Receita de Samba and "Dôce de Coco" to the aggressively jazzy "Assanhado", which is reminiscent of bebop. He also researched and attempted to preserve the older choro tradition, as well as that of other Brazilian music styles.